The "Nomadic" Brewing Agreement: Why Bother?
If you're thinking about contracting your brew, let's take a look at what your thought process might be:
Do my recipes have potential?
Yes!
Do you have proof of concept?
Yes, of course. The beer geeks love it!
Do I want to expand?
Of course! Why not? People need my product in their hands.
What about marketing?
What about it? We've got the internet, Facebook, word of mouth… Our big problem is just getting the beer made.
So, how much will I need to run a few hundred BBLs, pack them in some mind-blowing packaging, and ship them to my thirsty customers?
(Googles around for a minute) Frick. About one billion dollars.
And that's the sound of your dream of becoming a huge beer brand evaporating.
Enter: contract brewing.
The supporters of this type of setup are right on the money when they say it's has taken birth out of necessity. The craft beer industry is on the rise, thanks to this style of setup between contract brewers and the guest company.
But keep in mind, just because you have a few new ideas and recipes does not mean you are ready to expand. In this industry with slim profit margins, the decision of expansion at the wrong time can be detrimental to your business.
Contract Brewing Definition
It is a brewing arrangement where a company A pays a company B to use its brewery for production.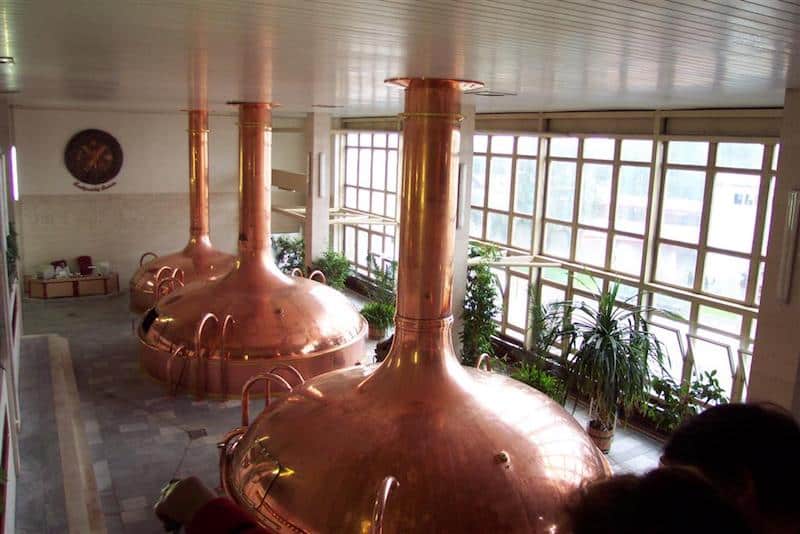 The company B, which provides its facility for beer production to Company A, is called the contract brewer.
The contract brewer can help the guest company with refining the recipe, producing beer, packaging, and shipping it. Some other terms you might hear thrown around for contract brewing are "gypsy" brewing and "nomadic" brewing.
The Key Considerations: How to Know if Contract Brewing is the Right Move
Know the Different Types of Contract Brewing Arrangements
Contract brewing agreements come in a couple different formats. The type of contract you choose can affect your contract brewing rates significantly.
Let's look at the two different types.
The Contract Brewing Agreement
The first one is a straightforward contract brewing contract in which you hand over the brewing responsibilities to the contract brewer.
They will refine the recipes, produce the beer, and provide packaging and shipping services. Needless to say, they're getting a big cut.
The Tenant Brewing Agreement
The second one is a tenant brewing contract. In this arrangement, you rent the space of the contract brewer.
As a result, you hold the title to your ingredients, use your own workforce to produce the beer, perform the packaging, and do the shipping on your own.
Understand the Contract Brewing License Requirements
The licensing part can be a bit tricky. However, if you have read the previous point about the two contract brewing agreement types, it won't be difficult for you to understand this part.
Contract brewing does not have a license per se. The licenses and permits you need depend on your agreement type. Let's look at the requirements of both.
Licensing with a Contract Brewing Agreement
Like we mentioned above, in this arrangement, you are giving the charge to the contract brewing company. They would use their workforce, equipment, space, packaging, etc. In fact, they can even help you with the shipment of the final product.
It is quite clear here that you are not really the brewer at all. Eventually, you are just purchasing a completed product from the company, which makes you a wholesaler. You have to have the right state licenses and contract brewing TTB wholesaler permit in this particular case.
It also indicates that the contract brewer you are agreeing to work with has proper licenses to brew.
When it comes to taxes, the brewer has already paid the necessary taxes by the time the product reaches the shelves. However, you can lay out different terms and conditions if you wish to with your contract brewer.
Licensing with a Tenant Brewing Agreement
The beauty of this contract is that you have a lot more control.
All you're really doing is you using a large brewer's space and equipment. You have your own workforce, brewing techniques, recipe, etc.
You take care of the packaging, branding, and shipment as well. In short, you are the brewer.
As a brewer, you are responsible for all the tax matters pertaining to your product. Furthermore, you have to do the recordkeeping of how much you are brewing.
In addition to the federal laws, you must also know the state laws governing contract brewing agreements and licensing requirements.
Find the Right Brewing Contractor
Now that you have gone through the preliminaries, you need to find the right contract brewer that will meet your requirements. Here are some tips to help you with your search for the right host.
The best way to find the right people to work with is to network. Reach out to your network and ask around. This is usually the source of the best opportunities.
Keep in mind, established breweries may not be interested. They may not have the capacity or interest.
The best breweries to target are startups and in the initial stages of their expansion. They've just laid out a bunch of cash and may have excess capacity to fill.
Check out beer festivals that might be taking place in your area. Or host your own. This is a good way to kick start the networking if you haven't done much groundwork here.
Finally, go to beer conferences. CBC is the mecca of the craft beer world, but there are others as well. Once again, the key word here is "network".
Draft a Viable Contract Brewing Contract
Once this conversation is started, and you've found someone who is open to contracting, it'll come time to draft an agreement that benefits both parties.
Tread lightly here. A few things that you should consider while drafting the agreement are as follows:
Make sure the volume is worth your while, but also do some serious contemplation of how much you'll actually be able to sell through (more on this below).
Include shipping in the deal. Unless you have excess capability here for some odd reason, you don't want to create more work for yourself here.
If it's not a tenant brewing contract, you need to know your contract brewer's commitment to producing high-quality beer. Look into their process closely. If you think they're just basically renting out space and equipment, choose a tenant agreement instead so that you have control.
The Challenges You Must Prepare to Face with Contract Brewing
Now I know… at this point, you're probably excited. And no wonder.
Contract brewing has been a revelation for craft beer producers.
According to statistics from 2014, the craft brewing industry has injected about $55 billion into American economy. In addition to that, it's helped provide jobs to 424,000 individuals. No doubt, contract brewing has been a part of that, especially for startups without much capital.
But, although it might seem like an easy way to increase your capacity but contract brewing requires some serious business acumen. Unless you are fully dedicated to making it work, you should not make the commitment.
Here are some challenges you must be ready to face if you go the contract brewing route:
The biggest challenge is to find a brewer in the first place.

It is not easy to find breweries that would gladly accommodate your operations. You might hear a lot of no's at first before you can finally find the right contract brewer.

Since you are the one who is in "need"

in this scenario, some large brewers might try to take advantage of the situation. Keep an eye out for the criteria we mentioned above.

Be prepared to drink from a firehose.

Most contract arrangements have large minimum brews. It's critical to have the sales plan in place to take on all this inventory and sell it through.

The quality of the final product might not be what you expected

due to lack of attention from the contract brewer. Be prepared to pull your hair out over the quality of the beer as compared to what you produce in-house. The typical brewhouse of a contract brewery is far larger than what you are brewing on. This will affect the recipe and taste. Make sure you have a super technical brewer who can guide the contract facility through the brews.

Be prepared to make a lot less profit. I don't need to tell you this, you already know it. When you add another mouth to feed in this already thin margin industry, it wipes your profit out. Weight the benefits.
I need to repeat myself on one point, this is not a knock on contract brewing.
For an existing brewery, I see contract brewing as an option to brew core SKU's when you don't plan to expand.
This will free up the production site to concentrate on the small batch goodies.
An Insider's Guide to "Nomadic" Brewing: Final Thoughts
Alright, folks…
At this point, you understand the pros and cons of contract brewing, the licensing and permit requirements associated with the arrangement, and what challenges you can face when you go this route.
While this is a longer version of the guide, we have also created a shorter and much more concise cheat sheet checklist to help you evaluate whether contract brewing is a route you'd like to take.
[thrive_leads id='1222′]
Also, feel free to comment below, or send us a note here if you have questions about the particulars of your setup.
Happy brewing!
(Image Credit: feature image, image 2, image 3)