This is Part 1 of our Growth Guidance Pro Tips Series and includes our top insights on what powers the best taprooms in the business.
So welcome!
Like we laid out last week, pro breweries and amateur breweries exhibit distinctly different habits…
None more visible than those in the taproom.
Below you'll find five best practices that separate professional, high-performance taprooms from those that are… well… mediocre at best.
Taproom Pro Tip 1: The Cooler
Place a 9-foot (updated!), double-door, merchandising cooler in your taproom and fill it with your package offerings.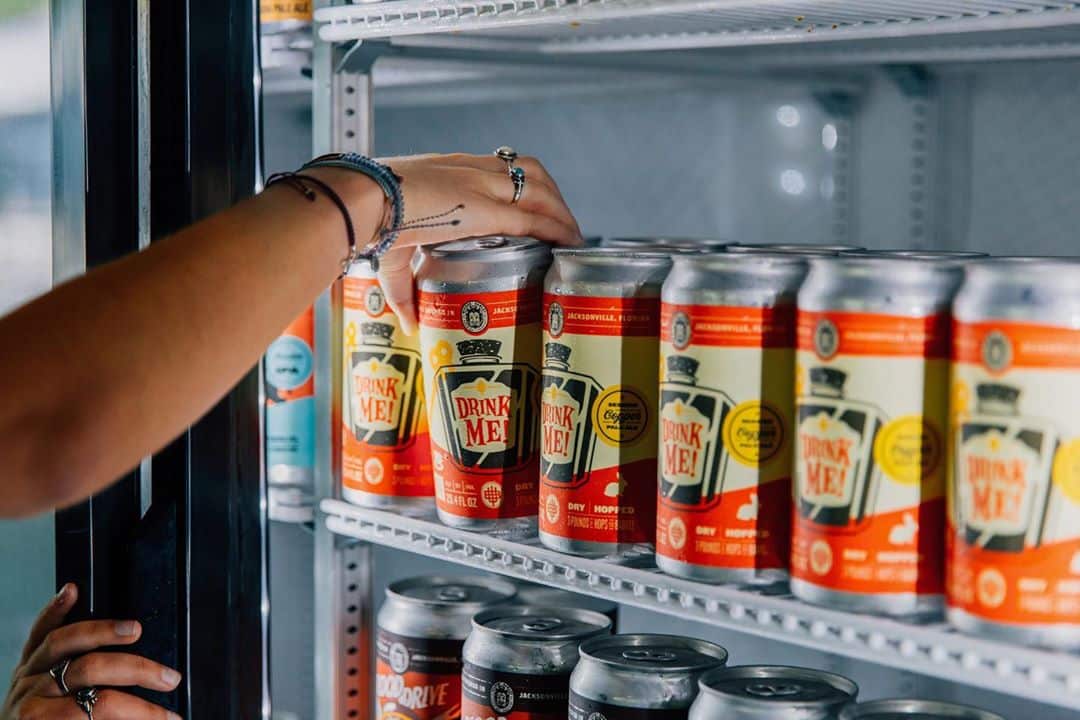 This cooler should be accessible by the customer. Consumers love the ability to touch and feel the product.
If you do not offer package products and have a crowler machine, pre-fill crowlers and place them in the cooler.
The goal is to establish as many selling points in the taproom as possible.
No wasted space in your retail honey-hole!
Won't a good product sell itself?
Amateur brewers tend to believe that if the product is good, it should sell itself.
"If you build it, they will come," right?
Craft beer has an elevated status that customers will recognize and go out of their way to reward you for, right!?
The hard truth (that pro breweries accept and deal with accordingly) is that people really don't care all that much.
They've got headaches at work, bills to pay, kids to pick up, family to visit, and lives to live just like the rest of us.
And that means, if it's not convenient to patronize your establishment, many of your customers may just as well grab something at the grocery store while they're running errands.
Sorry folks, sale lost. And it had nothing to do with your product.
Pro breweries aren't just focused on making great beer.
It's merely a prerequisite.
They're instead sophisticated enough to understand that they're also in the retail business.
And in the retail business, psychology matters (like a lot), and wasted space is a sin.
Putting your product front and center so that it's visible, attractive, and easy to purchase is some serious low-hanging fruit that will bump up the most profitable sales you'll ring up.
Why aren't you doing this again?
Taproom Pro Tip 2: The Monthly Can Release
Schedule a 16oz can release every month.
Plan on a limited run, no more than 50 cases of a style.
The first three releases should build awareness and demand.
This will take announcements, marketing, and beautiful artwork.
For the taprooms that execute this one properly, on the fourth run you should sell out of all 50 cases over a weekend.
Oh and remember, make it something special, flex your brewing muscles.
Brown ale in a 16oz can is not special.
Taproom Pro Tip 3: Taproom Labor
Taproom labor should be between 3-5% of taproom revenue.
This applies to every state except California.
In California, it should be between 6-8%.
In this number should be both tipped employees and your taproom manager.
If taproom labor exceeds this metric, you are not generating enough revenue.
So how do you generate more revenue?
…Sell more!
Taproom Pro Tip 4: Monthly Taproom Sales
Monthly taproom sales need to exceed double your taproom manager's salary.
If you pay your taproom manager $40,000 per year, the taproom should generate $80,000 in sales each month.
People ask me where I get this metric from. Some even scoff at it.
The metric comes from our initial work with Funky Buddha Brewery.
See, Funky Buddha was generating 10x their manager's salary each month.
After some extensive data analysis and comparisons among the rest of our clients, I landed on the "2x salary" figure.
98% of our current customers (44 breweries and 3 distilleries) rock this benchmark.
Run your taproom numbers
Do you think you can?
Run your numbers in our taproom calculator tool.
And remember: pros confront the facts and act accordingly.
Your monthly taproom revenue should also exceed $30 per square foot. You'll find that in the calculator as well.
Taproom Pro Tip 5: The Kitchen Mindset
To open a brewpub or add a kitchen to your existing taproom, a mental shift is required.
Anytime a kitchen is involved, you go from running a taproom to running a restaurant that makes its own beer.
Hiring someone (a mercenary GM) who knows how to operate a restaurant is critical to the success of the brewery.
A friendly PSA: everyone must eat, no one has to drink.
That's a wrap on The Taproom
Alright, this wraps the taproom series.
And let me just say this…
If you act on all five of these tips, it'll be hard to go wrong unless you royally screw the pooch somewhere else.
Now sure, you might disagree with me on "this" or "that" point (although it's pretty hard to disagree with the results that the breweries who employ these strategies generate), and that's fine…
But if your taproom isn't performing all that well, then something isn't working right.
It could be that you're deep in the weeds. You're wearing 18 different hats and don't have the time to step out of the day-to-day long enough to consider how to make significant changes to what you're already doing.
It could be that you're under pressure from the bank or investors and don't want to risk changing it up for fear of sending your revenue into the toilet.
It could be that you don't have enough internal support to put your intent out there and be confident that your team is going to carry it forward.
Whatever it is, it's a shame.
Because you have the potential to make some big moves… to start "turning pro"… and (saying it again in hopes that it will sink in) the taproom is the most profitable place to start.
Next Steps Towards Growth
Now, if you've followed us for a bit, I bet you've seen this before.
That's intentional.
Part of what we hope to do with this series (and the content we're putting out as a whole) is to drive home the thesis that turning pro doesn't require any "secret sauce" or hidden idea you have yet to uncover.
Instead, it's about recognizing good information when you see it (which we hope to assist with by serving as a filter for good information), and then ACTING on that information again, and again, and again…
As Derek Sivers (internet philosopher and founder of CD Baby) says:
"It's so funny when I hear people being so protective of ideas. People who want me to sign an NDA to tell me the simplest idea. To me, ideas are worth nothing unless executed. They are just a multiplier."
Our core service acts as that multiplier if you need it.
But regardless of how that work gets done, the important thing is that it gets done, day-in and day-out.
And in the end that comes down to a simple decision to take action.
If you're interested in learning more, I invite you to take our survey and book a short call to discuss.
Schedule a brewery growth discovery call with Chris Farmand.
Next up in the series is Part 2: Outside Sales.