In Small Batch Standard,
Kings County
FINDS A TEAM OF DISTILLERY-FOCUSED ACCOUNTANTS, TRUSTED ADVISORS, AND FINANCIAL EXPERTS WHO CARE
"It's nice to work with other people who appreciate why you're in the business. 'Cause they're in the business too, as opposed to people who just sort of treat you as any other business."
Read the full case study
"It's nice to work with other people who appreciate why you're in the business. 'Cause they're in the business too, as opposed to people who just sort of treat you as any other business."
Read the full case study
Starting in a quaint 325-square foot room out of Brooklyn, Kings County Distillery began operation as the smallest commercial distillery in the country, with five 24-liter stainless steel stills making whiskey seven days a week, 16 hours a day.
Just two years after their founding, Kings County Distillery made a big move to the historic Brooklyn Navy Yard in 2012, just steps from the legendary site of the Brooklyn Whiskey Wars of the 1860s and the former distillery district of the waterfront.
Kings County Distillery offers creatively traditional whiskeys by blending their distilling practices from a variety of cultures that defy convention by using Scottish copper pot stills, open fermentation, and local grains to make American whiskeys that expand the category.
Challenges
Solutions
Results
Challenges
✗ Needed to improve profitability as initial investment money began to run out
✗ Hadn't yet found a partner who could deliver clear, on-time financials for their investors
✗ Were looking for tailored guidance and ongoing support for future growth
Solutions
Results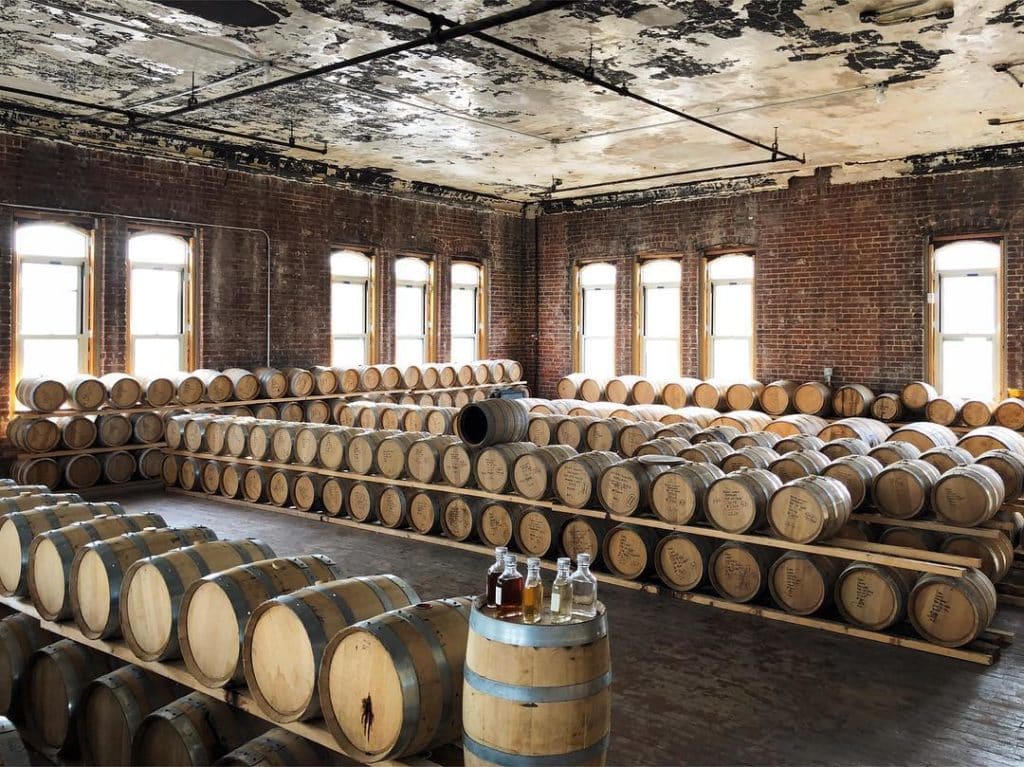 Investing for the Future
Kings County Distillery officially launched in 2010 after Colin Spoelman and his business partner, David Haskell, raised the necessary funds from friends and family. Later that year in August they sold their first shipment of product to a local liquor store, held a tasting, and blasted an email announcing the first whiskey made in Brooklyn in almost a hundred years. The response was sensational.
They found tremendous growth and support, but with the complexities that come with investing in aged bourbon, Kings County Distillery reached a tipping point.
On top of needing to be profitable, Kings County was internally falling prey to an unfavorable trend that would impact major players in their circle.
The Added Benefit of Industry Expertise 
Colin was already receiving some of those considered answers by following Small Batch Standard's email newsletter. There was just one hang-up that stopped him from reaching out.
After receiving about 8 newsletters from Small Batch Standard, Colin officially expressed interest and subsequently engaged Small Batch Standard using their Numbers Powered Growth service. Kings County went through the onboarding process and the SBS Consulting Team used their knowledge of the craft brewing industry to implement service offerings that supported the needs of a distillery-oriented business.
While in the process of gaining a newly-formed tech stack and the reorganization on their chart of accounts, Kings County Distillery was shaken by the COVID-19 pandemic within their first 60 days of engaging Small Batch Standard.
Small Batch Standard understood the potential impact COVID-19 would have on the industry and compiled a list of funding-eligible clients. They promptly notified those clients, including Kings County Distillery, by calling an inner circle meeting.
Streamlined Accounting, Year-Over-Year Growth, and a Trusted Advisor 
Despite the pandemic, Kings County saw a clearer trajectory on the horizon and knew Small Batch Standard played a role in their future. They felt the immediate impact of engaging SBS, their expertise, and the industry they are so passionate about.
Now with deeper insight into their own business, Kings County saw financial growth rooted in expert advice and support from Small Batch Standard.
With momentum forward, Kings County Distillery has a team of individuals at Small Batch Standard who support their business growth. It's not just numbers and spreadsheets, but something far more personal.
Schedule a short exploratory call with the SBS team to learn more about our Numbers Powered Growth service.